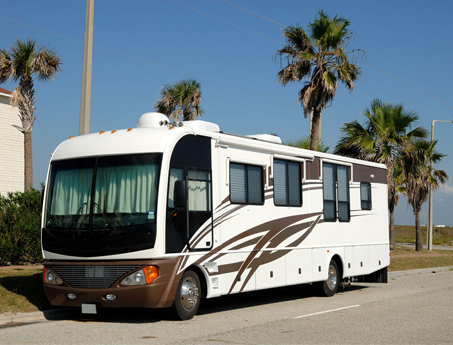 Is RV insurance necessary?
While you can partially cover your RV with an existing auto policy, we don't recommend it. RV insurance policies are specially tailored to meet a RV user's unique needs, covering many possibilities auto policies can't. Those who live in their RV will find full-timer's insurance policies especially useful.
Get an RV insurance quote through BIG SWFL to find a policy that meets your needs.
What are the benefits of RV insurance?
Your RV offers much more than a standard car and therefore deserves specialized coverage. It's a home away from home, packed with amenities and valuable possessions.
Just think of all the situations you might encounter in your RV — situations generally not covered under a car insurance policy:
Clothes, camping equipment, and personal valuables are lost or stolen from your RV

Someone is hurt in or near your RV

Your RV is damaged on the road, and you need a place to stay and a way to get there
When you insure your RV with its own unique policy, you can select a wide range of coverages designed to address these situations and more.
An RV covered under your auto policy will have only basic liability coverage, which leaves you financially vulnerable. Plus, you won't have any of the following coverages:
Total loss recovery/agreed value

Emergency expense

Vacation liability

Personal effect replacement

Full-timers package

Roadside assistance
What types of recreational vehicles can I insure?
RV insurance covers many types of recreational vehicles, including:
Motor homes, including classes A, B, and C

Professional and non-professional bus conversions

Motor coaches

Camper vans
Whether you vacation at the helm of an Allegro Bus or prefer to explore the great outdoors in the comfort of a camper van, we can help you find the right coverage.